First steps towards the founding of an Association of Entrepreneurs of the Economy of Communion in Germany
by Andrea Fleming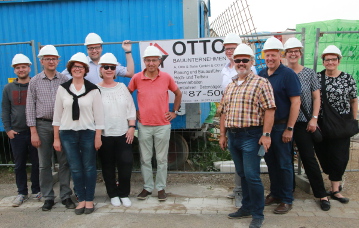 Leverkusen is well known mainly because most of its population works for one of the world's chemical and pharmaceutical giants. But more than 100 people left visible traces in the city, working for the construction company A.Otto & Sohn. Crossing the city by car, Rüdiger Otto points out several buildings, industrial complexes and original constructions that he has built together with his team.
On the last weekend of August Otto showed his company and two construction sites to a group of entrepreneurs
from the Economy of Communion, telling them about challenges and successes but also difficulties and uncertainties. His colleagues asked him some very concrete questions: they want to know more and comment on what they see. "I am very impressed by the culture of trust that I see here," says one of them. "Trust will not prevent you from being robbed of tools or work equipment, but it shows that you welcome your employees with a basic trust and this impregnates the entire workplace climate!" The atmosphere is characterized by great openness, lightness and simplicity in relationships regardless of age, size of the enterprise or previous experience with the Economy of Communion.
In the last morning, attention is directed to the future: the entrepreneurs decide that it is time to found an association for the activities, coordination and public visibility of the Economy of Communion in Germany and by the next meeting they intend to create the conditions to establish it. In a telephone conference with some entrepreneurs who could not be present a decision was made about the venue and date of the next meeting: in February 2018 they will go to Rheine to visit Volkmar dental laboratory and a producer of milk and dairy products, Naarmann in Neunkirchen.