By Luigino Bruni
Published in Città Nuova n. 5/2013 on March 10, 2013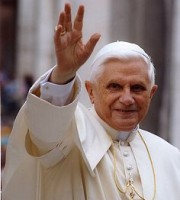 In our hedonistic, consumeristic, and finance centric culture, love may be the most used and worn out word. However, Benedict XVI made it the core of his social doctrine. Deus Caritas est and Caritas in Veritate, are, respectively, his first and last encyclicals.
Despite being discarded by our society, love was chosen by Pope Benedict to be the cornerstone of the Church and his reign as pope, from beginning to end. This love is called charitas, a latin word carrying a long and intriguing past. It was used for trading (it meant expensive or valuable) before the first Latin Christians adopted it to translate the word agape.
This Greek word was adopted by the New Testament's authors to express the absolute novelty of Christian love. The words Eros and philia (friendship), which were used back then, were simply not appropriate. In fact, agape, as opposed to eros, includes love for that which is repulsive and unfriendly; it doesn't expect anything in return. Nonetheless, in his first encyclical the pope teaches us that agape isn't contrary to eros and philia, but rather is the result of their utmost development. One should keep this concept in mind to understand Caritas in Veritate. In that encyclical he admits that the market doesn't exclude gifts and contracts that include graciousness. It is important to notice though the distinction between gifts versus presents, and graciousness versus things free of charge (no cost). These are commonly and mistakenly considered to be synonyms.
The love previously mentioned is central to Benedict XVI's social, anthropological, and theological encyclicals. These true social and economic letters could only come from a true theologist. Pope Ratzinger stated more than once that love-charitas is the principle for true socialization and for the economy (no other type of love). Such an idea triggered a cultural revolution, which, due to its enormous area of influence, will only be entirely understood in the future.
As an economist of communion, I'm tremendously grateful to Pope Benedict for recognizing charitas as the core of economics. By doing so he elevated its importance to new levels. As the crisis broke out and the economy strayed far from the principle of love, St. Peter's successor appealed for the economy, the labor market, banks, and enterprises to live up to their original and precious vocation.. Today, thanks to him, many people can experience love in their work and in the economy. This theologist pope dared to combine the market with love, contracts with gifts, justice with graciousness, and the economy with communion.
In short, this pope was another great Benedict. He gave us all a new ethical principle, as important as his predecessor's "ora" and "labora". He gave lay Christians a beautiful life path by naming the economy love. He sent out a message of great hope to workers and to the labor market during the crisis. Therefore, by addressing the economy Benedict XVI changed it forever. Perhaps some people didn't read the encyclicals due to our incapability to disseminate them efficiently, but even they were affected by the changes caused by his writings.
In everyone's name I would like to thank you Pope Joseph, for your words that filled our professions and everyday life with dignity. Your message is a love song to humans as beings made of bread and salt (salary). We are such concrete creatures when we love, think or pray as well; when we pray ("ora") and work ("labora").
Translated by Cristian Sebok