Written from Germany, remembering Ludwig "Lui" Hofmann
The first EOC entrepreneur from Germany has "left for heaven"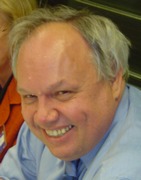 On the morning of Tuesday, September 22, 2009, our entrepreneur and father of a family, Ludwig "Lui" Hofmann, left for heaven after a long illness due to a brain tumor.
Ludwig became enthusiastic about the EOC during a 2001 meeting. He and his cousin were about to begin a business that produced cell phones modified for internal use on the railroad when he decided to adhere to the EOC. Following that moment, he continued to participate in the various EOC meetings with much interest, always encouraging us with few but meaningful words. His contribution to the discussion about an industrial park in Germany was substantial and important for it´s development. In fact, he had even considered opening another branch of his business at an industrial park near Ottmaring (where there is a small town of the Focolare).
Ludwig was serene and balanced, with good sense and a huge heart. Even during his illness, he continued to keep in touch with lively updates about developments through e-mail and Skype.  His e-mails always ended with the greeting "Frohes Schaffen!", which translates more or less as "Happy working!" Even when it was no longer possible for him to write emails, he asked his family to keep us up to date.
Until the end, he was full of optimism and the desire to live, and at the same time he felt carried ahead by his faith and the communion with his friends. Ludwig always entrusted himself to our prayers. Now, we are the ones who can ask him to intervene for us to the Father, for us and for the project of the EOC industrial park in Germany.