Visiting Sophia University Institute and at the Industrial Park Lionello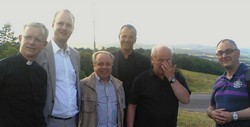 From June 26-28, 2012, Professor Peter Schallenberg and Dr. Arnd Kuppers (from the Catholic Centre for Social Sciences of the German Episcopal Conference at Monchengladbach-KSZ) and Dr. Peter klasvogt (of the Kommende Social Institute of the Archbishop's Center of Paderborn at Dortmund), friends of the EoC, together with Winfried Baetz-Braunias and Hermann-Joseph Benning (from the German EoC Commission) were guests of the professors of the Sophia University Institute in Loppiano, the city of the Focolare Movement near Florence, Italy, "the City of Fraternity."
Professor Piero Coda, theologian and president of the Institute since its opening in 2009, presented Sophia as an international scientific project for research and sciences based on a new epistemological method, 'to think as a community, not just as individuals.' Learning intended as gift is central in this method, as a process of relating among people.
For this reason it is necessary to have a community imbued by a Trinitarian breadth like that proposed to the Church by the Focolare, instead of a spirituality of pre-Conciliar obedience. "In this way, new perspectives come to surface within and among the various disciplines," as philosophy and epistemology professor Sergio Londinara stated.
The students who arrive from all over the world experience at once a combination of community life and an experience of studying, while obtaining a Master's which ends with a degree that is recognized by the State in the context of the Bologna Reform. The first thesis of theology and philosophy have already been published and the doctoral work underway deals with the social sciences and communications, as related by Belgian professor Bernhard Callebaut. The institute already offers a vast library which will be expanded in the next few years to contain the most important original works of both scientists and international thinkers, through new donations as well.
Professor Luigino Bruni demonstrated the two dimensions of the EoC while dialoguing with Dr. Kuppers (expert in economy of the social market), professor Schallenberg ( moral theologian at Paderborn) and Dr. Klasvogt (Commenda of Dortmund). The macro-economic dimension requires a common evolution - not only a national one - of the ethical aspect in use today, moving towards an economic model centered on community. From the micro-economic view, instead, the meeting that followed with the board members of the Lionello Bonfanti Industrial Park, demonstrated the measure in which an approach based on reciprocity, gratuity and business correctness can enrich a company's development. The guests were also able to visit the Healing Health Center (Risana) which provides healthcare services to approximately 5,000 people in the surrounding region, and the Enertech Company (Consultants for the environment and installations) which, in collaboration with French and German companies, is opening new markets in the technical sector for homes and vehicles.
Of particular interest were the experiences of the EoC from the Republic of Congo, which has been devastated by war.
These were shared by the German theologian, Dr. Monica Maria Wolf, whose 25 years in the African continent has taught her the importance of the knowledge and inclusion of the culture of the region for the success of the projects undertaken on behalf of the poor. The solidarity and education project, 'Petite Flamme,' begun by her and sustained by the EoC, has brought her to the realization that a European concept of democracy is not transferable to Africa.
The various encounters with the 'interlocutors' in Loppiano brought into evidence the concept of fraternity as lived in daily life. Dr. Kuppers expressed it this way: "I have reached a better understanding of it within this new framework."