Presentation of the EoC at the Beck Symposium on Poverty and the Common Good at Fordham University  of New York
"Reciprocity as a Key to Economic Development"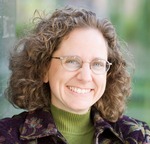 On April 2, 2009, Amy Uelmen, director of the Institute on Religion, Law & Lawyer's Work at Fordham University School of Law (New York, USA), was invited to present the Economy of Communion project as part of a symposium on poverty and the common good sponsored by the Bertram M. Beck Institute on Religion and Poverty, also located at Fordham University.  The moderator was the well-known journalist for the New York Times, Mr. Peter Steinfels.
Within the context of this discussion, the Economy of Communion project, with its concrete applications, and its accent on the practice of building authentic human relationships based on the value of reciprocity, appeared as a precise response to these
specific needs.  Against the backdrop of concerns about the financial crisis, one could sense in the hall a particular sensitivity to the broader horizons that the EoC offers to the search for solutions.  Peter Steinfels was especially touched by how the EdC has something truly "new" to say, and especially by how it gives "voice" to the experiences of the poor, not as objects of care, but as real protagonists of the project.  
The April 9. 2009 issue of the archdiocesan newspaper, Catholic New York gave ample coverage to the event.  The article described the EoC as a project modeled on the life of the first Christian community, and highlighted its vision based on the culture of giving in which the poor are not seen as "beneficiaries" but as active participants in which each one "gives and receives with equal dignity."